I am a nomadic worker, and like all nomads I try to find a stable work routine that will not vary when I move between companies. I never expect corporate email, time entry, project management, problem ticket, or documentation software suites to be under my control. Database administration and general Windows utilities, however, are usually left to the individual worker to choose. It is far easier to be productive when my Windows toolset for managing Unix-hosted DB2 remains stable from client to client site. This article describes the Windows software that moves with me when I relocate.
FastStone Capture screen capture software is an invaluable documentation tool, and free shareware without annoying adware or spyware. It is far faster to capture succinct screenshots with FastStone than editing a desktop screeprint, and allows embedded annotation and caption.
(Update 2009.03.18: Since I wrote this piece, FastStone Capture is no longer freeware. It now downloads as a 30 day trial. If you want a freeware screen capture option now, you should try Gadwin PrintScreen 4.4. Click to download. )
The best telnet/ssh client I have found, and a DB2 DBA standard in Chicago. The quick text copy/paste capability makes editing and running complex Unix commands relatively effortless. The tool is very stable and easy to learn.
Downsides to putty:
putty stores configuration in the Windows registry so transferring your configuration between computers is not as easy as it should be, which also makes it difficult to run putty from a thumbdrive. Here is a how-to on transferring putty configuration between computers.
I would like to be able to dynamically label/rename windows on a host. I often open multiple windows on a host and use just one window as a vi session, or a specific task, current directory, or long-running foreground task. If I could change the title bar name it would be easier to switch between sessions and recall which session was being used for a specific task.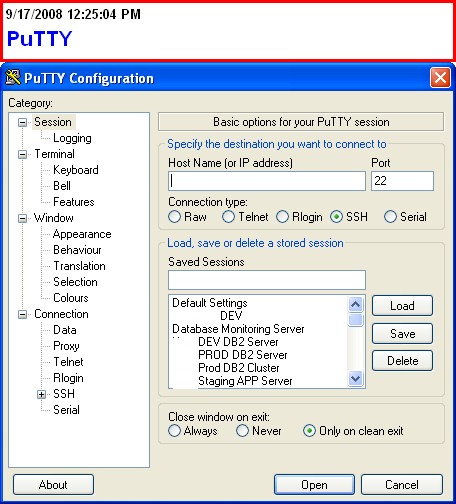 ---

Firefox
Firefox appears to be the standard now for all the companies I have worked at lately. I occasionally find software, such as Replicon Web Timesheet release 7.5, which only works on Internet Explorer (IBM's documentation links also often only work well on IE, I sometimes get database errors on the IBM site when coming in through Firefox, reason unknown).
My favorite Firefox 3 work features are Reopen Closed Tabs; Session Restore; Search Engine keywords; Password Manager; and the ability to copy/paste multiple text.
I love Firefox for the speed and the tabs, of course. But what makes Firefox invaluable are the add-ons. The Firefox add-ons I find most useful for work are Scrapbook, which allows me to archive transient data without printing; Torbutton which toggles Tor easily, allowing privacy over your corporate intranet; the del.icio.us add-on allowing social bookmarking. Firefox Search Engines include the IBM DB2 LUW Information Center versions 8, 9, and 9.5.
I prefer the vim editor in both the Unix shell environment and on my Windows desktop. Not only do I use it for ascii text editing, but also as a scratchpad; a place to record, for quick lookup, directory, file names, and frequently tweaked/reused commands; and a staging area to edit and review more complex shell and DB2 commands before submitting them. I almost always have a vim session open on my desktop. I write all my html on gvim.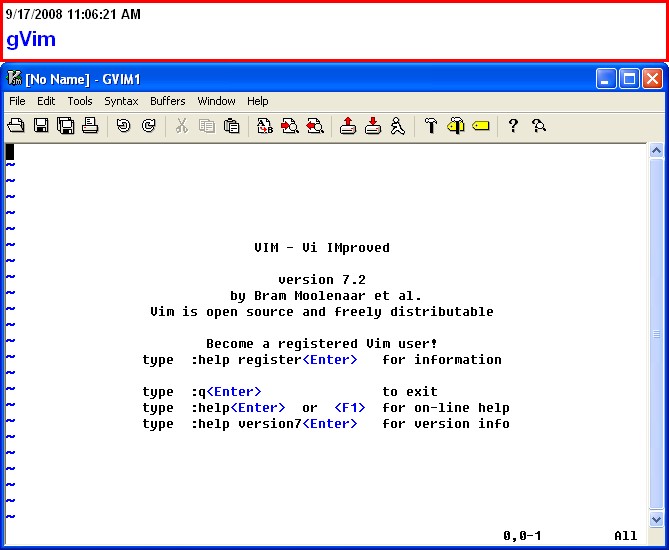 The FileZilla ftp client is easy to learn and use and has completely replaced ftp command-line for me, at least for synchronizing my laptop with server directories and files. Unlike putty, it can easily import export configuration settings, making it much more portable. The ability to run concurrent and recursive subdirectory downloads has saved me substantial time. I was initially skeptical of the graphical interface, but being able to select files by click, rather than manually type (and fumble) case-sensitive and counter-intuitive filenames eventually sold me completely over the text ftp interface. There are still, however, directories which are have too many individual files to be displayed by FileZilla. In those cases I usually flip over to the shell, and manually copy the file I need to an otherwise empty directory, then use that directory as my FileZilla source.
I only use FileZilla for laptop-server synchronization. For server-to-server file transfers scp is far easier and faster; and can be scripted.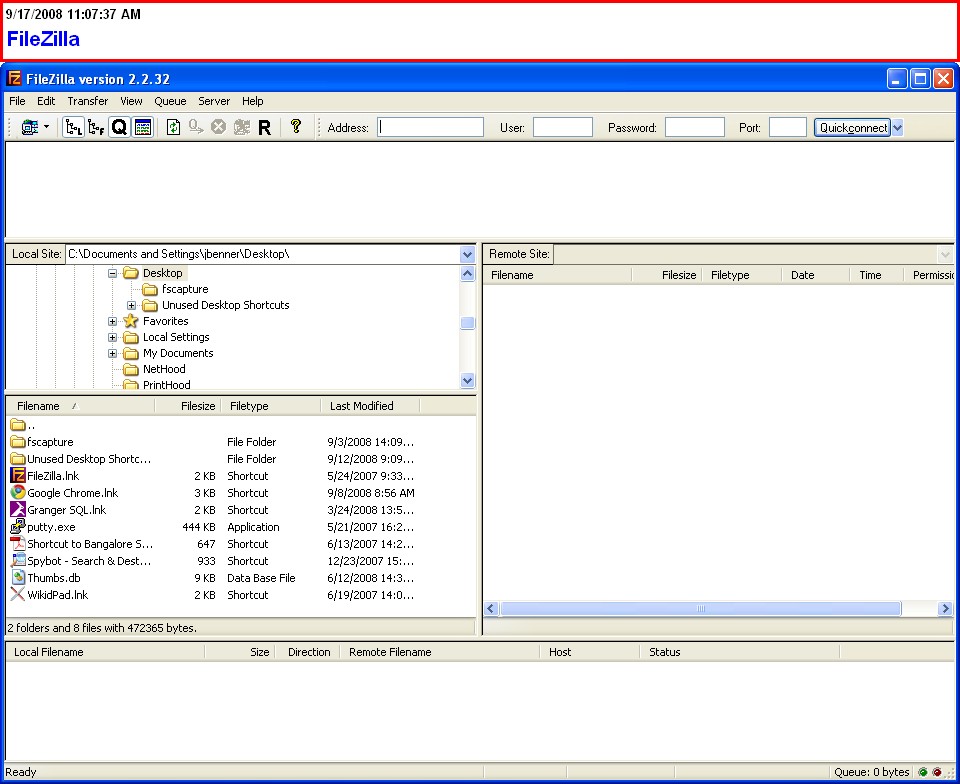 Since about 2005 the last two Chicago IT departments I have worked for have used XMPP IM for serious intradepartmental collaboration. I use Pidgin because my IM contacts are split equally between internal Jabber server accounts, external Google Talk and Yahoo IM. Pidgin is a great tool which keeps all my IM in one place.

PDF Creator has given me an almost paper-free office. The utility creates a virtual printer whose output results in the creation of a PDF file. This has made it easier to collaborate with others by allowing me to easily share print output; allows me to permanently save transient data such as graphs; and build documentation.
A nice feature is the ability to merge multiple prints into a single PDF file. Other how-to on doing this are not very clear so here is a quick how-to on merging prints once you have installed PDF Creator. Assume here we want to merge 2 documents, Document A and Document B:
Print Document A to PDFCreator virtual printer
When the PDF Creator dialog comes up, click on 'Wait – Collect'
Print Document B to PDFCreator virtual printer
When the PDF Creator dialog comes up, click on 'Wait – Collect'
Now go to the "PDFCreator – PDF Print monitor" application which will have started.
Highlight all the files you want to merge
Right-click on the highlighted items. A pulldown menu will appear.
Choose the Combine option.
Now, still using PDF Print monitor, choose Print.
Save the resulting output.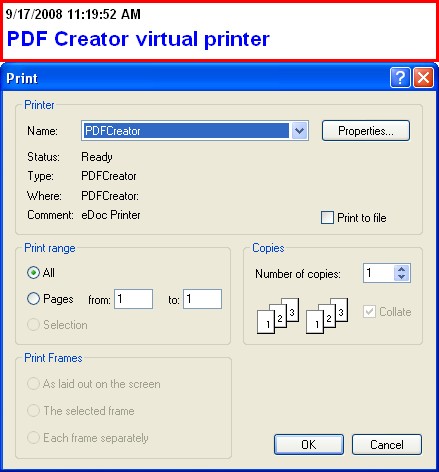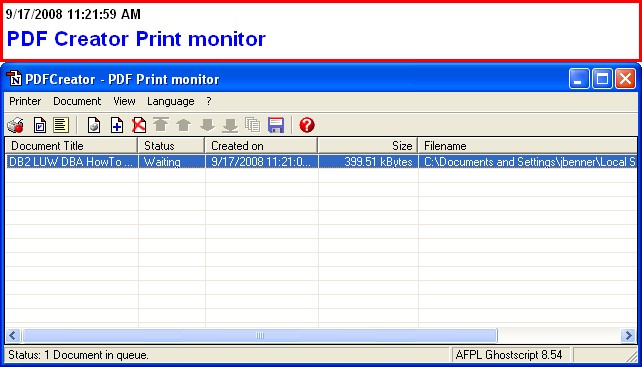 Great Windows client for Oracle and DB2, developed by Chicago consultant John Granger. This is NOT a free tool but has a long trial demo expiration period (contact the company for pricing, last time I checked single user license is around $100). Easy to install and use. The tool has nice metadata features, accessing DB2 system catalog tables, which are much easier to use than the official DB2 Control Center. If I am going to use a database Windows client on a daily basis, I will choose Granger SQL over the IBM DB2 Client.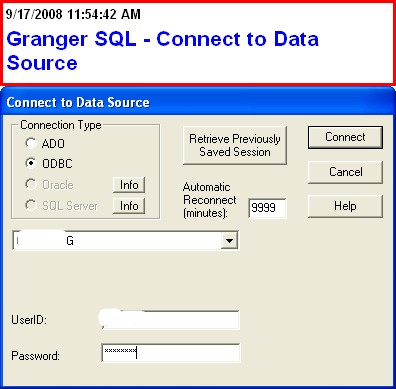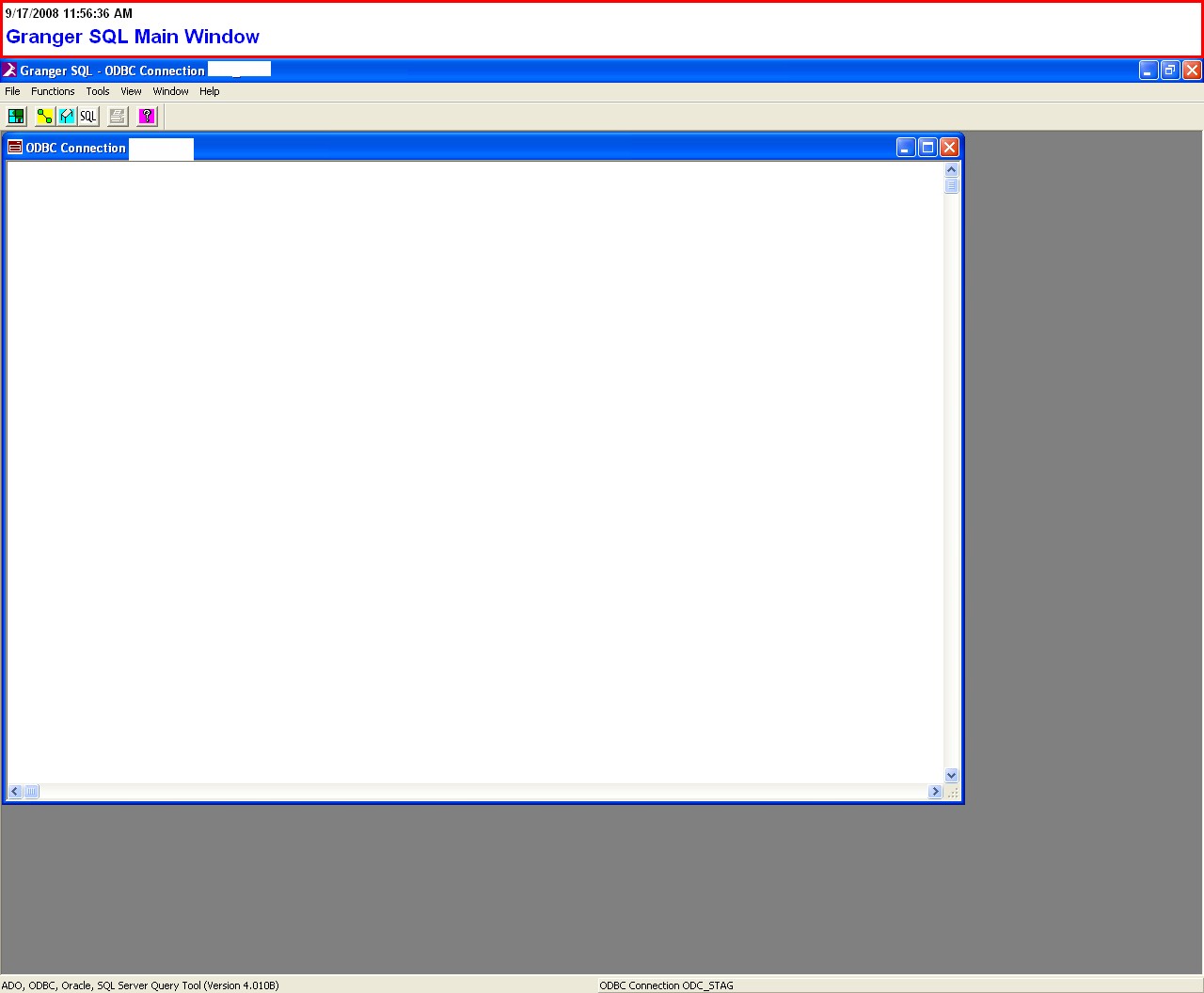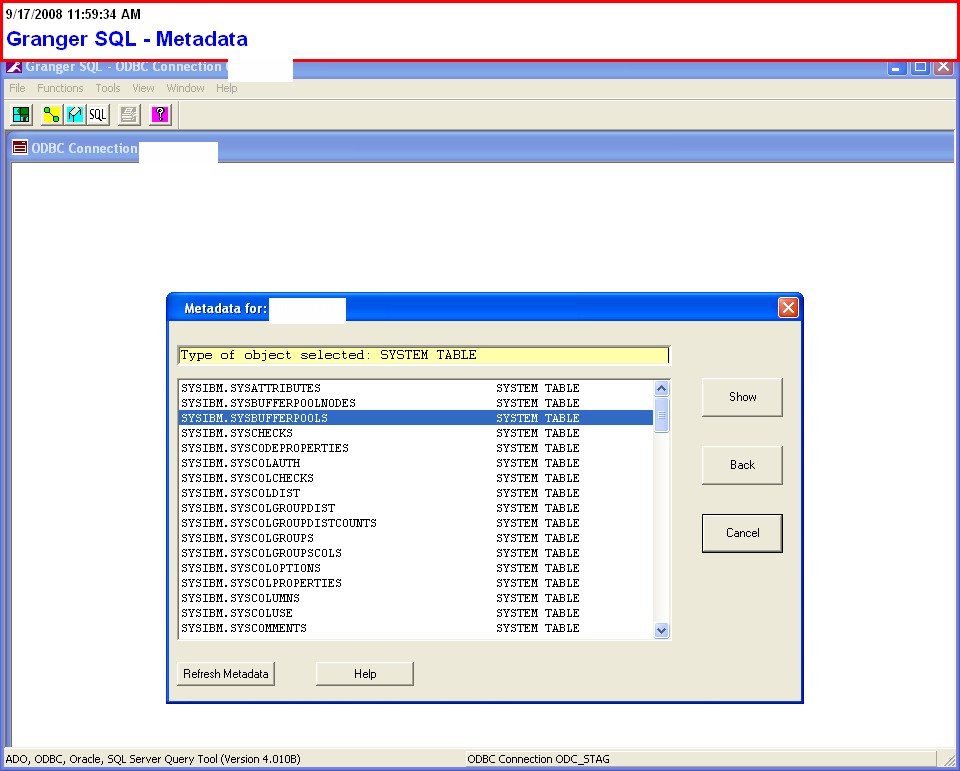 IBM DB2 Client
The IBM official DB2 Client for Windows falls far short of what I want in a Windows-based administration tool. I consider DB2 Client optional for my own work, which is almost exclusively administration of Unix-based DB2. If I am doing database maintenance or research, I would rather work within the Korn shell session for the database server. I then have command history, access to all my working files, and all the Unix utilities (such as awk) at my disposal. I can easily save complicated projects and resume my work later. I have the vi command-line editing options, which make my work much more efficient. I have Unix. On the Unix server shell, it is also easier to work collaboratively with other DBA's, where filesharing is the norm rather than the exception.
Control Center displays metadata, but Granger SQL does a better job. Control Center shows performance data, but I can do a better job by writing my own snapshot captures and saving Snapshot Administrative Views to tables for 24 hour monitoring. The Health features would be nice, if only Health Monitor worked the way it should.
Furthermore, the Control Center seems bloated, both with features and memory usage (especially tiresome on a work laptop) and ever since the conversion to Java has loaded and run slower. I am not a big fan. But I recognize the need for the Client for application debugging and when for some reason you cannot get a shell session or a server account. So here are instructions on how to obtain and install the Client.
This is NOT free software. Download it by logging onto Passport Advantage IBM Passport Advantage Online . (This assumes you have a Passport Advantage account and that you own a license to DB2 Enterprise Server.)
Then in the right-hand column choose 'Download software'
Agree to Terms in the next page
You will be taken to Download Finder. Drill down through these pages until you have selected Data Server Client.
For example, the first page may show DB2 Enterprise Server CPU Edition. On the next page choose your Language; and for Platform the appropriate version of Windows (NOT the operating system of your DB2 server).
You should then be given a list of available products with expansion buttons. From here choose Data Server Client, agree to terms, then begin download.
The downloaded file will be placed by Download Director in

C:\DownloadDirector

The filename for DB2 version 9.5 on Windows x86 will be

DB2_DSClient_V95_Win_x86.exe

Execute this to install the client.
More installation instructions can be found on this page.